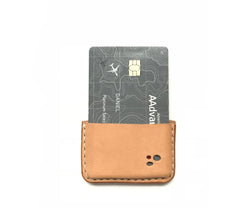 Original BYNDR Wallet
Simplify your pockets with BYNDR wallets. 
The wallet is large enough to fit 4-8 cards and cash,* but small enough to fit effortlessly and comfortably in your pocket.
This handmade design uses quality leather. It has two compartments, holding 4-6 cards in the front and 1-2 cards in the back. Your wallet will loosen up over time making it easy for card removal or adding additional cards if needed.
*Since these wallets are handmade there may be some slight differences.